Welcome to the ninety-ninth issue of Hashtag Jakarta EE!
The pull requests used to initiate release reviews by the Jakarta EE Specification Committee for Jakarta EE 10 have started appearing. Check out the specification you are interested in to see if you can do anything to help get it over the finishing line. Currently, there are pull requests for Jakarta JSON Processing 2.1, Jakarta RESTful Web Services 3.1, Jakarta Expression Language 5.0, Jakarta Mail 2.1, and Jakarta Activation 2.1.
Another topic that is being discussed in the Jakarta EE Platform project lately is to tighten up the language around the @Priority annotation. The intention is to have a consistent way of determining priorities across the specifications using the annotation. What it boils down to is this: Should a higher number mean higher priority? Or should the lower number have higher priority, thus sorted in ascending order?
You can read all the details in the proposal document and give your input in this survey.
My personal opinion on this topic is that there should be one way of doing this, and it should be consistent throughout the platform (Option Ax or Bx). I don't want to introduce any new annotations to bypass the problem (Option C), and doing nothing (Option E)is just as bad. I guess I would prefer HIGHER number means HIGHER priority (Option Ax), but with be comfortable with the opposite as well, i.e. LOWER number means HIGHER priority (Option Bx).
Java on Rails
This week, I was on the road (or on rails actually) with Simon Ritter, Mattias Karlsson, and Jeanne Göthberg. We did a tour of three Swedish JUGs in three days. First Malmö, then Gothenburg, and finally Stockholm. We had great fun, three successful events, and great conversations. It felt really good to be out meeting the community again. This was the first in-person event for all the three JUGs in a while.

On stage after my talk on the last day, Mattias announced that I got a Jakarta EE talk accepted for Jfokus 2022. The conference is fully booked, but there is a waiting list if you haven't gotten hold of your ticket yet. See you in Stockholm in February next year!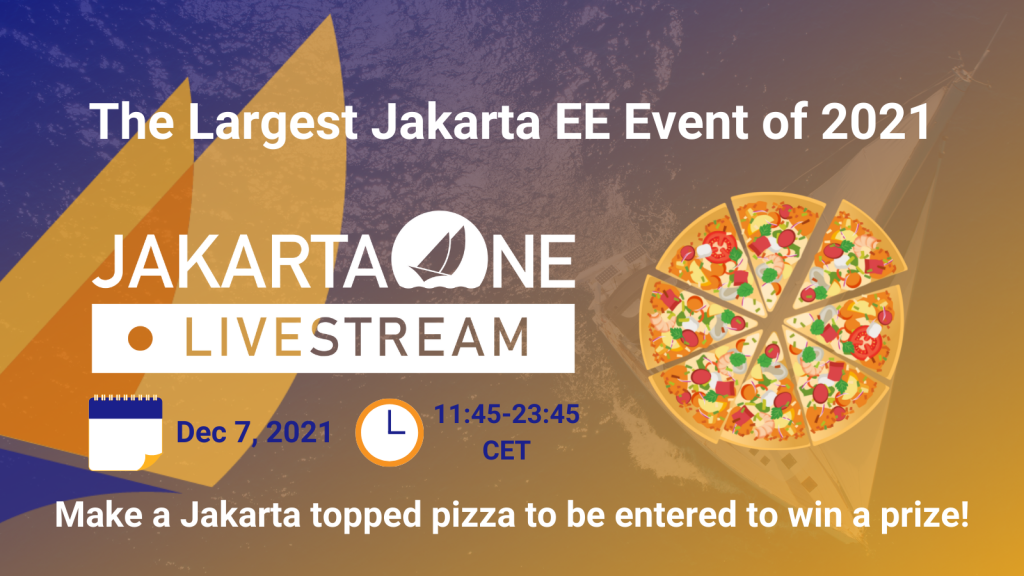 JakartaOne Livestream is coming up in a couple of weeks! Register for this free, one-day virtual event now!
Last year, we had a cake theme, where we encouraged everyone to bake a cake and submit pictures to win great prizes. Before that, we had a cupcake theme. This year, we are going for PIZZA!
I am looking forward to seeing the creative spins on this challenge. I guess I could make the yellow and orange colors of the Jakarta EE sailing ship with some looks-like-cheese-melts-like-cheese-certainly-doesn-t-taste-like-cheese kind of substance, but how to get the blue color on a pizza that is still possible to digest goes beyond my cooking skills. Writing Jakarta EE with pepperoni is as far as my creativity goes.