Welcome to issue number one hundred and ninety-five of Hashtag Jakarta EE!
Home again after a couple of busy weeks on the road. Read all about it in North America JUG Tour 2023. Now, I'll be home for a week before my next trip which will be Devoxx Belgium. I can't believe it is almost October already.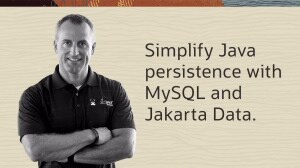 I got an article titled Simplifying data access with MySQL and Jakarta Data published in Oracle Java Magazine this week. Check it out, or even better, try it out. It contains a step-by-step guide for how to test out Jakarta Data, which will be included in Jakarta EE 11.

JakartaOne Livestream 2023 is approaching. The event will be on December 5, 2023, and the format will be the same as the previous couple of years. Currently, the program committee is reviewing proposals. I expect the first speakers will be announced shortly. Until then, the registration is open, so I encourage you to get registered and mark your calendar. This year's edition will be special since we will be celebrating the 5-year anniversary of Jakarta EE. I am pretty sure there will be cake!